DENTAL IMPLANT SPECIALISTS SERVING MALDEN, MA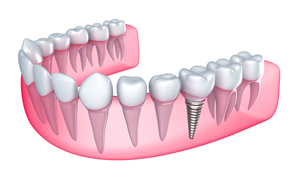 Our office has been voted "Best Dentistry" by the Readers Choice Awards, and recently recognized by The Consumers' Research Council of America as one of the Top Dentists in America. We've successfully treated many patients from Malden, MA and surrounding areas with the finest care.
Our dental implant procedure replaces a missing tooth with a strong, natural-looking artificial tooth. A dental implant is permanently rooted in bone and looks and feels like your own teeth. An implant can improve your speech and appearance, and provides many advantages over traditional dental bridges and dentures.
Our dental implant services include:
Procedures by dentists experienced in oral surgery.
Matching of implant to shades of your other teeth.
Convenient, permanent solution to tooth loss.
No alteration of other teeth is needed.
Durable construction lasts for many years.
Care Credit financing options available.
We also offer Cerec restorations! State of the art computerized dentistry with digital impressions. No messy impressions or weeks in a temporary. It's the latest technology to come to the dental field.
We stand for the practice of responsible esthetics. That means being the dental resource for Malden patients as they strive to maintain their health, function, and appearance for their lifetime. We believe that cosmetic dentistry must complement, not only the oral health, but also the overall health of the patient.
Patient Feedback:
Best Dental Experience I Have Ever Had
"From the moment I walked in the door, everyone at the office was very welcoming and friendly. As a new patient without insurance, I was nervous about treatment costs. Everyone went out of their way to explain any possible charges and work with me to ensure that I was getting only the treatment I really needed. My treatment and options were explained to me thoroughly and my entire visit was pleasant and efficient. My visit could not have been any better!"
Jane – Malden, MA
For those in Malden, MA and surrounding areas, please feel free to contact our office with any questions, or to schedule an appointment by calling us at (781) 665-2113. Our staff looks forward to serving all of your dental needs!