LOOKING FOR AN IMPLANT DENTIST IN MELROSE, MA?
Dental Implant Services in Melrose, MA
Melrose Family Dentistry offers dental implants that replace a missing tooth with a strong, natural-looking artificial tooth. A dental implant is permanently rooted in bone and looks and feels like your own teeth. An implant can improve your speech and appearance, and provides many advantages over traditional dental bridges and dentures.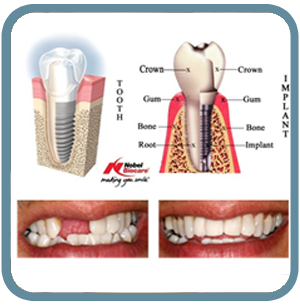 Our Dental Implant Services Include:
Procedures by dentists experienced in oral surgery
Matching of implant to shades of your other teeth
Convenient, permanent solution to tooth loss
No alteration of other teeth is needed
Durable construction lasts for many years
Care Credit financing options available
Dental Implant Patient Review:
I have been a patient at Melrose Family Dentistry for many years and have always been really pleased with the service. In particular, I was very happy with the dental implant procedure that they did. I really like the way it looks and I can tell they are experts in this area by the way the whole experience went."

-Janice in Melrose, MA
Check out some of our dental implant, and other cosmetic dentistry, before and after photos in our
photo gallery
, and please call us at
(781) 665-2113
to schedule your appointment today. We are located in Melrose, MA and service the surrounding areas.